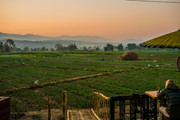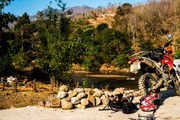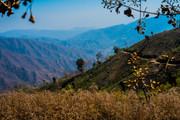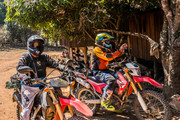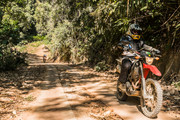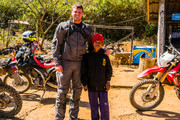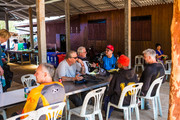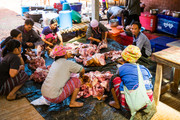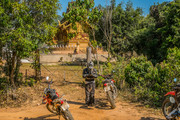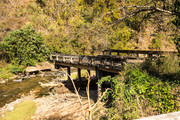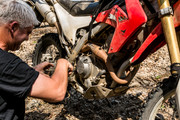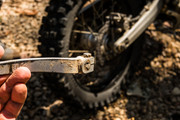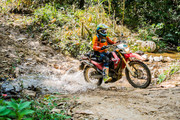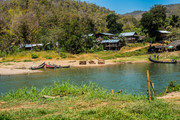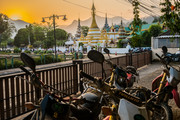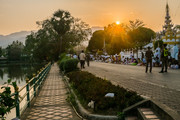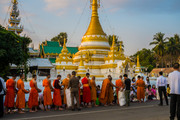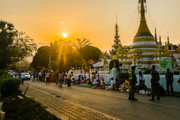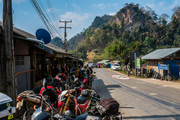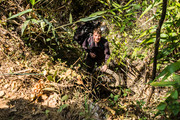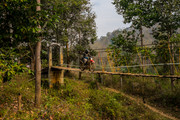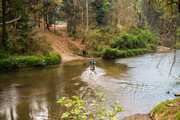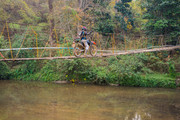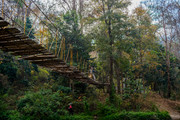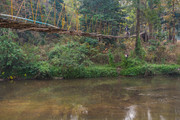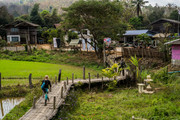 7 Days Through the Hill Tribe Villages of Northern Thailand
Some of the group were emotional, having kicked ass on the
longest hill climb they'd ever done.
The 7 Americans were exclaiming how amazing it was and that
it exceeded all expectations. "You can't describe this trip to someone who
has never been here" I overheard. And so that became my challenge for this
article.
How it
Started
A few years ago I was living in Thailand and travelling
through Chiang Mai.
My Dad sent me a message saying to have a look at TBB Tours
while I was there. One of his workmates had attended one of their on-road
tours, describing it as the best holiday of his life.
I met a bunch of friendly Brits there and discussed
bringing a few friends over for a tour. I came back to Australia and got too
busy, so the tour never happened for a few years. When I got back in touch
earlier this year, they were only too happy to accommodate me by letting me
join another group.
What the
Tour Entails
I must admit, I didn't bother to ask or find out much about
the tour. All I knew was that it would be 7 days and I'd be joining an American
group.
I had no idea whether there would be much road, if the dirt
would comprise of single track or fire trails or what particular region we'd be
going through. I just knew it would be fun.
I also wasn't sure of what the accommodation would be like.
As a travel bum used to hostels, I wasn't expecting much luxury.
As it turns out, the tour would be a week of all styles of
track, mirroring the Mae Hong Son loop which is a famous road loop comprising
of 1,864 curves.
The scenery was amazing and varied. We were taken through
the villages of the hill tribes, down through countless river crossings and
through some of the most winding roads I have ridden.
Being the only person who didn't read the tour outline or
itinerary, I was quite surprised by the accommodation.
Every night would be some sort of amazing bungalow
overlooking rice fields on the edge of a small town, or a resort in one of the
cities. It was far more luxury than I bargained for and every afternoon we were
met with a cold flannel and a fridge stocked with beer. Small touches that make
a massive difference.
On the
Road
Day 1
Day 1 started with painful familiarity to anyone that has
met me. After pulling an all nighter at the hostel until 4:30, I had to be at
the hotel where the others were staying for 7.
After meeting everyone for the first time, we loaded all of
our gear into the support vehicle. A quick brief on the sweep/cornerman system
that we'd be using and we were off.
The hotel was on the south side of the old city, just past
the ancient walls. It took about half an hour to ride through town until we
entered a national park. Thailand has a burning season that last only for a few
months and we started riding through a very dry and burned out area. 
Nearly all single trail, we followed a ridgeline up and
down rocky hills for half the day.  Mainly gravel, the tracks were still
fast enough to be very enjoyable. Some of the group were struggling to find
there feet. Steven, the oldest in the group fell a few times and looked like he
was going to die of heat stroke. It was over 40° and the sun was sweltering.
After assessing his potential mortality, we pushed on and were met with a much
cooler creek bed to be riding through. I was reminded of the dry, quartz based
river beds you find up North in Australia. A little Gascoyne Dash-esque.
It was a baptism of fire, mainly due to the weather and
most the group were dubious of what was to come. It turns out this type of
riding was new to most of them, but the tour leader Duncan, would know just how
much to push them. Steven would be the biggest improver out of the group and
soon came to love this type of riding.
After a big day, we were met with a beautifully cold
flannel, fridges full of Chang long necks and an absolute smorgasbord of
beautiful Thai food. Inside my private bungalow, I was met with the perfect
view of the sunset over the hills and rice fields.
Watching the view while having a cold one with my soon to
be great friends, I knew I was in for something special.
Day 2
Most of the group was nervous about day 2. Knowing there
was a long hill climb to start off with and not knowing if they could pull it
off, the group set out.
We started with an hour on the road, going through some of
the tightest hairpins and switchbacks I had experienced. It was a great way of
warming up before getting to the hill sections.
Duncan changed from leading to being sweep, knowing that
some would need help. I would soon learn that he was able to push people of
different abilities to the point where they would have a great sense of
achievement, but no further.
This day was to go down as the best day of riding that most
of these guys had ever had. Brian claimed he was almost emotional at how great
he felt and Scotty was beaming for the entire day. Though that's sort of normal
for him.
Day 3
Departing from the beautiful Mae Sariang river resort, we
were in for another treat. Another day of totally different scenery and trails.
We did more than 45 river crossings.
I was crossing one when I caught a hidden branch pointing
straight at me. It ripped me off the bike and I flew head first over the bank.
With my head barely out of the water, the bike landed on my legs, pinning me
down like a canter-levered moron trying to keep my mouth out of the river.
When John eventually lifted the bike off me, he described
seeing it as like watching a jousting tournament. 
Inspecting the bike, I realised I had sheared the gearbox
output shaft. Snapped it clean off the side of the engine. Convinced my day of
riding was over, I waited for Duncan to return. I couldn't believe it when he
pulled a brand new shaft out of his bag and replaced it in under 15 minutes on
the side of the track.
Days 4,
5 & 6
The following few days incorporated every type of scenery
and trail.
We would go from the outskirts of towns, all the way into
small hill tribe villages where we would have to refuel from a coke bottle.
The main thing that stood out were the bridges we had to
cross. While many of the rivers were easy to traverse owing to the sand bottom,
there were a few that weren't.
We crossed two suspension bridges. Very old, very rickety
bridges. On our second last day we all lined up for what would be over an hour
of getting everyone's bike across. Being a suspension bridge, it was made out
of steel cable, though it was using thing bamboo for slats. Mainly designed for
walking and the occasional scooter, it was a hell of a ride getting across.
There was a 3 foot gap in one section with no slats,
meaning the bikes had to be ridden across a tight rope. The group was nervous,
but mad keen and excited. They were no longer the same riders as they were on
day 1 and Steven was a born-again daredevil by comparison. Everyone was
ecstatic to get across.
Following the bridge was some awesome, flat out double
track that wound through the hills for a few hours with nobody else in sight.
We spent the second last night in Pai, a famous hippy
getaway and party town. The drinks were on John, as we'd spent a few hours
retrieving him and his bike from an almost5 metre deep ditch that he found from
wandering a bit too far off the path. The picture doesn't really show that the
hole was 5 metres deep, but I'm 2 metres and could fit more than twice.
With John buying, it became a bigger night than usual with
Larry, Brian and myself being the last men standing, some time in the mid
morning. It had nothing on the last night though.
Staying in a tiny lakeside hotel with no other guests, we
had a huge one for the last night. Countless longneck Changs and another buffet
of local food were brought down to the riverside hut where we dribbled shit
until the early hours.
The Last
Day
After a week of making new friends, riding and not worrying
about the normal world, day 7 was sad. Everyone wanted at least another week of
riding.
We caught a variety of terrain and after lunch, we rode
past some elephants on the side of the road before hitting the main highway
into Chiang Mai.
Wrapping
it Up
I had an amazing time on this tour. Far, far greater than I
expected, it was an incredibly well put together event.
Everything is taken care of in the price except for dinner
and drinks, which are incredibly cheap anyway.
Having only just returned from following the Dakar where I
had to organise everything myself, it was an incredible change to have someone
else doing all the running around.
With a support car, plenty of spare tyres and a mechanic to
work on the bikes at night, there is nothing these guys haven't thought of. I
can not reccomend TBB Tours (tbbtours.com) highly enough. I can easily
understand how Dad's mate had the best holiday of his life.